My Panther gloves Co .
Its pretty obvious, cold hands = bad day on the slopes. After skiing for over 20 years I have tried out quite a few pairs of gloves and mittens.
Personally I prefer gloves over mittens because I am primarily a skier, so for me its easier to grip my ski poles.
Choosing a good pair ski gloves is a compromise of thickness, dexterity and warmth. The ideal ski glove needs to be as thin as possible while being warm and water resistant.
Ladies: We created a separate list of Women's ski gloves.
Best Ski Gloves
For more of my top gear recommendations, have a look through these popular Outside Pursuits guide links: Ski Helmets, Ski Goggles, Ski Jackets.
Quick Answer: The 7 Best Rated Ski Gloves For 2019

Hestra Army Leather Heli Ski Gloves
Black Diamond Guide Gloves
Outdoor Research Revolution Gloves
Burton Men's Baker 2-in-1 Under Gloves
Arc'teryx Sabre Gloves
Dakine Men's Titan Ski Gloves
Columbia Sportswear Tumalo Gloves
Let's take a look at the top rated ski gloves, then we'll talk about how to choose the right pair for you in our buyers guide below.
---
Ski Glove Reviews
#1 Hestra Army Leather Heli Ski Gloves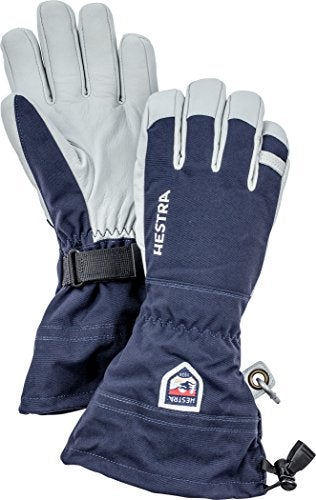 The Swedish company Hestra has been making gloves for well over a 100 years, so you have to assume they know how to make a pair of gloves. The Leather Heli Ski Gloves are one of the most comfortable ski gloves I have ever worn, and among the warmest.
The "bemberg" liners are what make them so comfortable, while at the same time they are breathable and wick away any moisture if you work up a sweat.
The liners are removable and interchangeable and there are a variety of thicknesses available to allow you to choose the warmth you need.
Expand To See More
Hestra Army Leather Heli Ski Gloves at a Glance
:
---
Type

: Gauntlet

Shell

: Nylon / Goat leather

Insulation

: Fiberfill

Removeable Liner

: Yes
---
#2 Black Diamond Men's Guide Gloves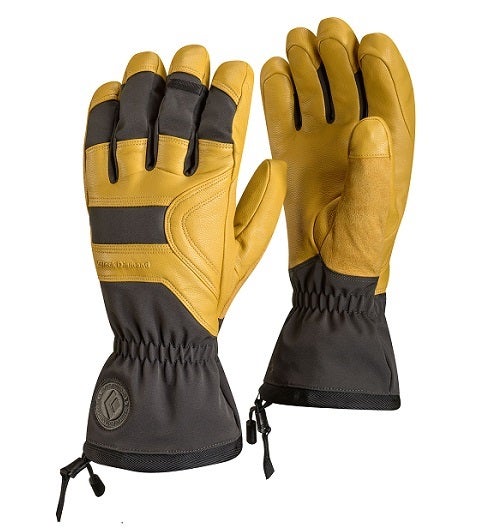 If your hands tend to get cold then the Black Diamond Guide gloves are for you. With 100g of fleece lining insulation these are probably the warmest ski gloves and will keep your hands warm.
They also have one of my required features of having removable liners so you can take them out to dry at the end of the day or for spring skiing.
Now the extra warmth does come at bit of a price, these are not the most flexible and dexterous gloves. The goatskin lining, while tough and soft does take some time to break in.
Expand To See More
Black Diamond Guide Gloves at a Glance
:
---
Type

: Gauntlet

Shell

: Goat leather / Nylon / Spandex

Insulation

: PrimaLoft

Removeable Liner

: Yes
---
#3 Outdoor Research Men's Revolution Gloves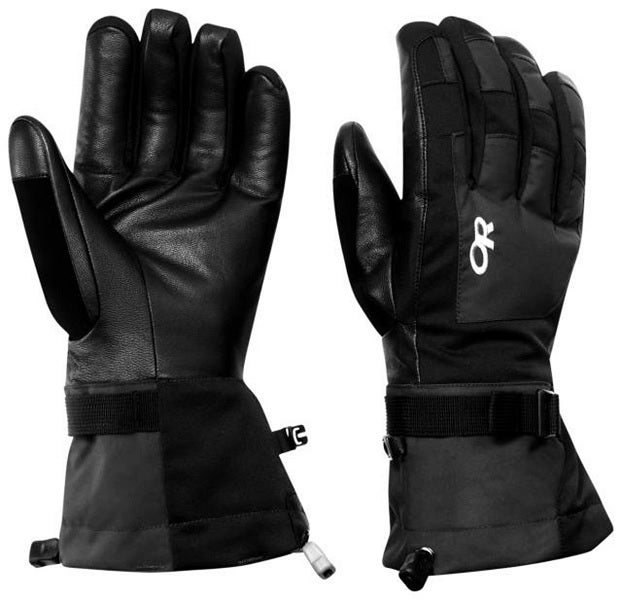 pantherglovesComing in on the mid-range of the price scale is the Outdoor Research Revolution gloves. For a bargain price you are getting a well above average glove.
They are one of the warmest gloves tested and still managed to be pretty dexterous. We were able to zip our jackets, buckle ski boots and helmets with the gloves on.
For the extra money you get touch screen enabled thumb and index fingers so you can use your smart phone on the slopes. In some cases the glove worked better than our bare fingers, not sure how Outdoor Research managed that.
Expand To See More
Outdoor Research Revolution Gloves at a Glance
:
---
Type

: Gauntlet

Shell

: Goat leather / Nylon

Insulation

: EnduraLoft

Removeable Liner

: No
---
#4 Burton Baker 2-in-1 Under Gloves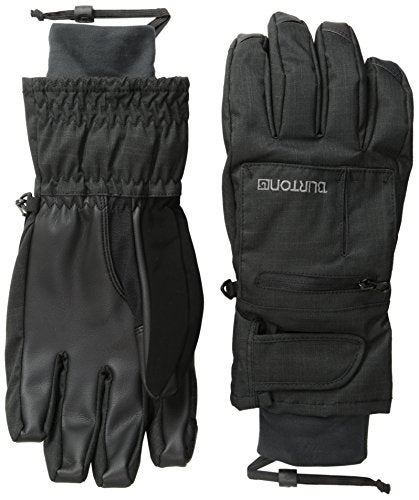 When it comes to winter gloves I have pretty high standards – spending more than 100 days a season in gloves will do that to ya.
That being said, if I were in the market for gloves, the Burton Baker gloves might just give the competitors a run for their money.
Why? Let's find out.
Removable fleece liner gloves are a great addition and when your glove gets wetted out from a serious day of shredding the slopes like Bode, you're going to be grateful you can just pull out the inner liner.
Expand To See More
Burton Baker 2-in-1 Under Gloves at a Glance
:
---
Type

: UnderCuff

Shell

: Nylon / Leather

Insulation

: Thermacore

Removeable Liner

: Yes
---
#5 Arc'teryx Sabre Glove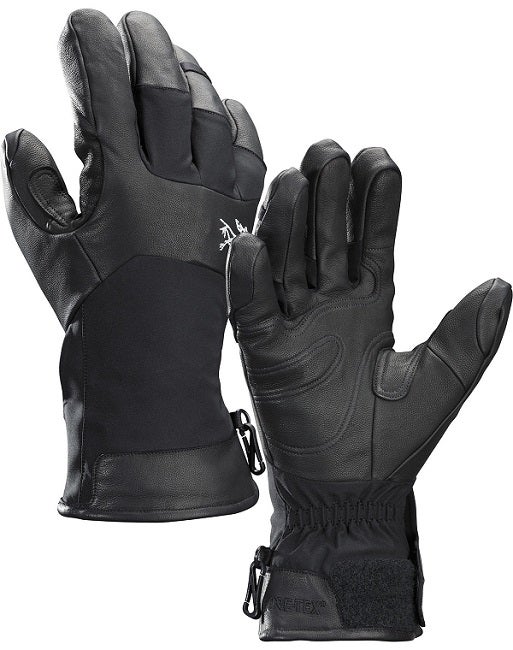 Arc'teryx is like the Rolex of outdoor gear. They're known for excellent quality but with a high price tag. These leather gloves with Gore-Tex insert are waterproof and breathable.
I love that they used Polartec Wind Pro insulation in the liners and can be removed. This is an insulation I've had in several pieces of gear before and I've come to swear by it.
The gloves have articulated fingers and are touch screen sensitive so you can use your smart phone without having to take your gloves off.
Expand To See More
Arc'teryx Sabre Gloves at a Glance
:
---
Type

: Gauntlet

Shell

: Nylon / Leather

Insulation

: Primaloft

Removeable Liner

: Yes
---
#6 Dakine Men's Titan Ski Gloves
Dakine has given skiers a completely waterproof pair of gloves with a Gore-Tex waterproof breathable inner liner and a DWR treated polyester shell.
Not sure why they did not use nylon for more durability and abrasion resistance instead of polyester. Unless you seriously abuse them, the gloves will hold up just fine.
On the plus side we have long powder cuffs for keeping out the snow and cold.
Expand To See More
Dakine Men's Titan Ski Gloves at a Glance
:
---
Type

: Gauntlet

Shell

: Nylon / Poly

Insulation

: Polyester Insulation

Removeable Liner

: Yes
---
#7 
Columbia Sportswear Tumalo Mountain Gloves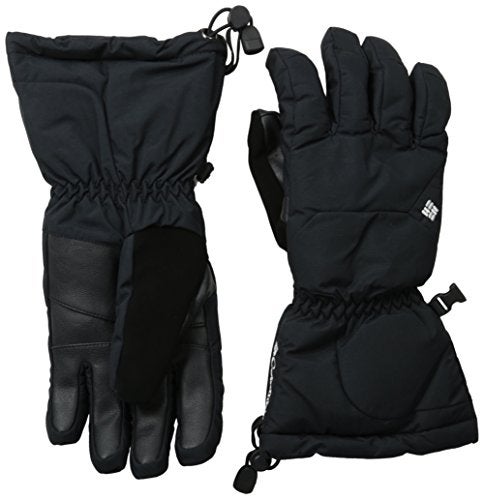 One of the coolest things Columbia has got going these days is their inclusion of "Omni-Heat" technology. Okay, so you know I'll cut through the BS and explain it – here it is:
Omni-Heat is just a dumb trade name for aluminized reflective dots adhered to the inner surface of the fabric.
This adds a great deal of radiation insulation (the part of heat which travels by electromagnetic physics) but doesn't do much for conduction, convection, or evaporation.
Expand To See More
Columbia Sportswear Tumalo Gloves at a Glance
:
---
Type

: Gauntlet

Shell

: Nylon

Insulation

: Omni-Heat

Removeable Liner

: Yes
---
Ski Glove Comparison Table
How to Choose the Best Ski Gloves
Considerations for Ski Gloves
Snowboard vs Ski Gloves
Tips For Fitting
Mittens Vs Gloves
Single Layer vs Dual Layer Gloves
Gauntlet vs Under Cuff Gloves
What to Look for in Ski Gloves
FAQ For Ski Gloves & Mittens
Best Ski Gloves Brands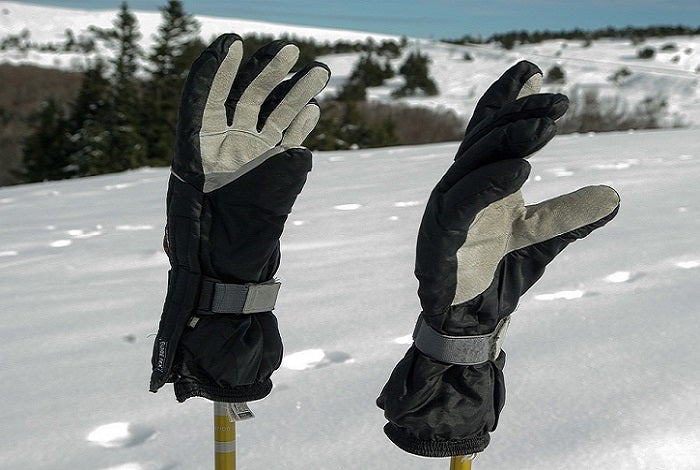 To a lot of people, all gloves are pretty much the same and just buy a pair based on cost or style. But on the contrary, there are significant differences. It is just that the differences may not be obvious. I will cover the differences and major features of the best ski gloves.

Considerations for Ski Gloves
Of primary importance to the skier is fit and comfort. Have a form fitting glove will allow you to make clothing and gear adjustments, grip your poles all day (if you are a skier) and use your smartphone while wearing them.
While warmth is of course important, in my mind a snug, form fitting glove is the most important feature because once you start skiing and boarding your body is going to heat up.
I honestly cannot remember having cold hands after a run or two. The only time my hands get cold is when I am on the ski lift.
So when thinking about how warm a glove you need, of primary concern is to think about what type of skier you are.
If you are the type of person likes to spend their time in the lodge when the temperature dips below 25 degrees then fit and comfort should be a priority because almost any glove will keep your hands warm at 25 degrees and above.
If you wear thick, bulky gloves in warm weather, your hands are just going to get hot and
sweaty after a run or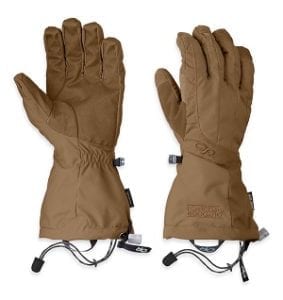 two. In this case you really need a pair of gloves that have moisture wicking like the Black Diamond Guide Gloves.
So make sure you seriously consider what will be the primary type of conditions you will ski in before purchasing your gloves.
It is best if you can try on a few pairs of gloves in a ski shop to get an idea of how each glove manufacture sizes their gloves. There can be a difference between sizings on gloves even from the same manufacturer.
To get a good fit, you should take a tape measure and get an exact hand size, then use this to pick the correct size from the sizing chart on the product page.
All the gloves reviewed above come in a variety of sizes so you should be able to get a good fit.
Some glove makers will supply a temperature rating on the gloves where they feel the gloves will provide adequate warmth down to.
Of course this is subjective, what is warm to one person may not be to another. So don't take them too seriously, at best you can use it as a rough comparison.
Ski Glove Shell: Leather vs Synthetic
You have two choices with a shell for your ski gloves: leather or synthetic and each have their advantages and disadvantages. We'll cover them now.
Synthetic
Synthetic shells are made from either nylon or polyester. Of the two nylon is tougher and more water resistant but less dexterous. Polyester on the other hand is more flexible but less water resistant and will wear out faster.
Either type will give you better breathability than leather and will keep their water resistance longer than leather where water will inevitably soak through. To counter this, better gloves use a combination of leather palms for flexibility and synthetic for waterproofing.
Leather
Ski gloves with leather shell are usually more comfortable, have better flexibility and just look better! Unfortunately they have some drawbacks. The biggest being they need periodic maintenance to keep their water resistance.
You cant just throw them in the attic or basement and expect them to just take them out on the slopes. To keep your gloves in good condition and water resistant, use a leather treatment like Hestra leather balm or Sno-Seal.

Snowboard vs Ski Gloves Panthergloves
I have worn gloves marketed to skiers and gloves marketed to snowboarders and honestly there is no significant difference. Skiers and boarders are going to want the same thing from their gloves: Comfort, Fit and Warmth.
While I notice snowboarders tend to like the "gauntlet" style of glove that are longer and reach further up the arm than skiers. I have a separate review on snowboard gloves here.

Tips For Fitting Ski Gloves
With the glove or mitten, your fingers should just barely touch the end of the glove or mitten or just a fraction of an inch gap.
Your gloves should fit firmly around your fingers and hand, but not too tight so that they would become uncomfortable after wearing them all day. You need gloves that fit your fingers firmly but ensure the material is of the type that expands slightly.
When they fit properly, you will be able to buckle your ski boots without removing them and you will also be able to get a firm grip on a trail maps or your phone.
The types of materials that the gloves are made of are going to have a major significance on how well they fit and their comfort. If you buy gloves that are made from leather like the Black Diamond Guide Gloves or the Outdoor Research Revolution Gloves, there will be a break in period of several days. Make sure so you follow the manufactures recommendations for break in and care.
Some gloves come with a pre-curved or articulated fingers, meaning the fingers are made with a slight curve. This is especially useful for skiers who have to grip poles all day. I highly recommend this feature.
Mittens vs Gloves
I am often asked, which are better; mittens or gloves? Certainly there is a gender difference, most guys will not be caught dead in mittens! I personally have never worn them, but my girlfriend swears by them. Here are some things to consider before choosing.
Mittens tend to be warmer because they keep your fingers next to each other providing extra warmth. The trade off of course is the lack of dexterity. It is almost impossible to make gearadjustments, read trail maps or zipper your jacket with mittens on.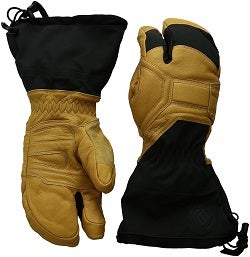 Black Diamond Men's Guide 3 Finger Gloves
Try and use your smartphone with mittens on, its almost impossible! You will have to take them off to do most anything.
If you're on the lift having to take your mittens off, you risk losing them and have to suffer with freezing hands while you try and read the trail map.
Mittens tend work a better for snowboarders because they don't have to hold ski poles all days and their boots are easier to adjust or loosen.
There is a new type of glove that is a cross between a glove and a mitten.
These gloves group together 3 of your fingers while leaving your index finger free for extra dexterity. I personally have not tried them, I have heard they work well and you may want to consider them.

Single Layer vs Dual Layer Gloves
I HIGHLY recommend dual layer gloves. These gloves feature a removable liner, typically made of fleece. Having a pair of these is like owning three pairs of gloves. Wearing both layers giving you extra warmth and the wind/water resistance of the outer shell.
If conditions warm up significantly, use the liners. Doing some spring skiing? Just use the outer shell for water resistance because you're really not going to need the extra warmth.
If you ski almost exclusively in cold weather, this will not be a big concern and the cost saving of a thicker single layer glove might be a better option.

Gauntlet vs Under Cuff Gloves
A gauntlet style glove comes farther down your arm providing extra protection against cold and snow getting into your gloves. I personally recommend this feature and use this style of glove.
Especially for the beginner skier who will tend to fall more often and is more likely to get snow in their gloves. They do offer a measure of extra warmth. If given the choice, there is no disadvantage to not use this style of glove.

What to Look for in Ski Gloves Panthergloves
Here is a checklist for you to consider before buying a pair of gloves.
Waterproofness
No matter how thick your gloves may be, they can't keep you warm when they are soaked. Your gloves need to be waterproof not just water resistant so that your hands stay dry and your hands will stay warm in the wettest of conditions. If your hands are wet, you are going to miserable!
Most manufacturers achieve this by using a membrane in between the liner and the shell. One of the most common is Gore-Tex. It's probably the most popular and best option to keep the water out and let your hand breath by allow perspiration out.
Another cheaper method is a treatment on the outside of the shell with a DWR finish. While this works, it does eventually wear off and does nothing more making the gloves breathable.
Leather is inherently water resistant but does require some type of treatment to maintain the water resistance and keep them from deteriorating. Probably the best option is a leather glove and synthetic combination shell.
Durability
This is going to be primarily a function of the shell of the glove. But you can't tell the durability of gloves just by looking them and feeling their texture.
If you choose gloves made from goatskin or cowhide you can be assured the gloves will be durable provided you take care of them.
The newer synthetics used in ski gloves is a solid choice as well. They are cheaper and don't have the care consideration of the leather.
If you're not going bother with maintaining the gloves you are better off with the synthetic. They will last much longer with no care, especially if your going to store them in the off season in hot and dry conditions.
Warmth
Since all good gloves must keep your hands warm, they must have a good quality insulation. I personally highly recommend gloves with a removable fleece liner.
For the ultimate in flexibility and warmth. While a thicker glove the warmer it may keep your hands warm, the trade-off is getting wet and sweaty hands.
Fit and Dexterity
We covered this earlier and won't go over it again in detail. Obviously the more dexterous the glove the better.
Features
Some of the newer gloves have the ability to use your touch screen device with your gloved forefinger. When it's cold and windy and you need to use your phone on the slopes, you will really appreciate this feature!
You will  also find gloves with a mini goggle squeegee, zippered pockets and articulated (pre-curved fingers). While all these features are nice, I would only consider the articulated fingers worth the extra money.

FAQ For Ski Gloves & Mittens Panthergloves
Q: What are liner gloves and should I use them?
A: Liner gloves are the most important part of ski gloves in my view. They're lightweight, thin, form fitting gloves that go under larger gloves.
Some gloves come with included liner gloves such as large mittens with removable liners. Other gloves are one-piece. If you're buying a one-piece glove and want to use a liner with it, consider going a size up to make room for the liner.
Adding a liner glove to existing gloves can fail if the liner makes the overall glove too tight. This will restrict dexterity and cause cold fingers quickly! You want a little space between the liner and the main glove.
Q: Are mittens or gloves a better choice?
A: I prefer mittens with liner gloves.
Mittens are warmer and help keep your digits warm longer. They also have just enough dexterity to hold the ski poles and that's all you need. When it's time to adjust your goggles, mess with your straps, or pull out your phone you can take off the mittens and use the liner gloves underneath.
Get liner gloves with touch fingertips so that when you take off the mittens you can pick up a phone call or take a pic.
Q: Do I need waterproof gloves?
A: In the late season like spring you may want waterproof gloves or at least waterproof liners. When temps warm up and rain is imminent or the snow gets slushy your gloves may soak through. In that case waterproof gloves are the right choice.
During the colder parts of the season you won't need waterproof gloves. When the temps are below freezing the snow won't be getting you wet anyways so any snow that gets on your gloves will come off "dry".
Q: What is a hand warmer pocket? panthergloves
A: Have you seen those little tear open hand warmers that slowly warm up and give off heat all day? They often fall out of people's pockets and end up on the ski runs where they inevitably get run over and make big black streaks.
Hand warmer pockets on ski gloves or mitten are usually on the back of the hand. There's a small zippered pocket that is just large enough for one of these hand warmers to slip inside.
The advantage over simply stuffing a hand warmer in your glove is that it won't fall out when you take your glove off. Plus, some hand warmers can become dangerously warm if left in direct contact with skin.
If you can find a glove with hand warmer pockets built in, definitely go for it!
Q: What is a lobster claw mitten?
A: In order to make up for the complete lack of dexterity afforded by mittens, manufacturers offer lobster claw mittens.
With a lobster claw mitten the mitten is split in half with the pinky and ring finger in one pocket and the index and middle finger in another pocket. The thumb, of course, still has its own little pocket.
With two fingers per pocket they can share warmth while still having more dexterity than a traditional mitten. Many pros prefer this style of glove like the panthergloves